Family food legends have a way of nourishing body and soul. 2011 marked the Minnesota State Fair's inaugural Greater Midwest Foodways Alliance's Heirloom Recipe Contest. I  joined in the judging to honor slices of cherished Minnesota family history. Eighteen women and men, aged 24 to 70, each displayed a story and a prepared recipe. The judges tasted potato soup, chocolate cake, ginger cookies, butterflake rolls , and perfectly cooked spare ribs with homemade sauerkraut.
Four stories and recipes broke out of the pack as the winners.
1st Place: Roberta Casey, St. Paul, MN. We laughed out loud at Roberta Casey's story of her grandmother's Pretzel Cookies and the lengths to which Roberta and her cousins went to get more than their fair share. Casey's display was accurate right down to the layers of plastic wrap she described as being essential to her grandmother's storage method. Hilma Cherney Rivan passed away at age 97. The family served Pretzel Cookies at her funeral reception.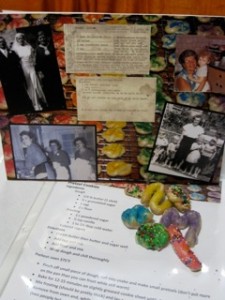 2nd Place: Gwendolyn Swenson, North Branch, MN. Swenson used peaches for this version of Fruit Upside-Down Cake, presented on a Depression glass plate on a vintage doily. The crumb and flavor of the cake were excellent. Swenson noted: "I have been making the recipe for nearly 50 years. Mom is nearly 84 years old. So between the two of us, we been making this recipe for over 70 years."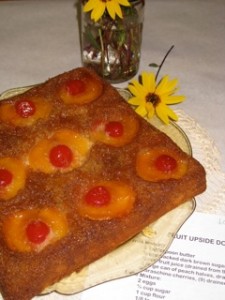 3rd Place:  Natalie Tangen, West St. Paul, MN.  Tangen told her grandparent's touching love story and described the hard-working life Louise and Fred Paez shared. Members of the family still make Louise's Spanish Rice and eat it rolled up in homemade tortillas. "Her rice with tortillas was simple fare, but lovingly made by her beautiful hands."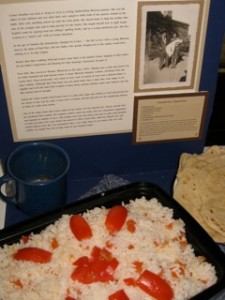 4th Place: Josette Repke, Plymouth, MN, Wash-Day Supper. Josette remembers this  surprising delicious Wiener Hot Dish with Boiled Potatoes (or, if you prefer, Hot Dog Casserole) from Mondays of her childhood, the day the wash was always done.
Read the winner's essays and try their recipes and read about previous contests.
The Greater Midwest Foodways Alliance, based in Chicago, debuted the competition in 2009 in Illinois and has since expanded to Indiana, Ohio, Iowa, and this year to Minnesota and Missouri, with plans to take the contest to more state fairs next year. FeedstuffsFoodLink.com–From Farm to Fork co-sponsors the event. Watch GMFA for information about 2012 participating fairs and information about how to enter.
Tags: cake, Cookies, family heritage, FeedstuffsFoodLink, food history, Greater Midwest Foodways Alliance, heartland, legends, Midwest, minnesota, Pretzel cookies, Spanish rice, state fair, upside-down cake