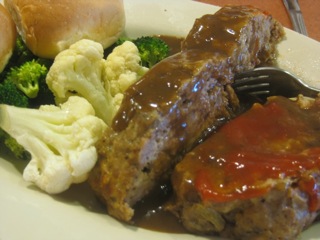 Ordered meatloaf for lunch today. Meatloaf with potatoes and gravy, vegetables, and a roll: that's what the menu said.  The server brought two GIANT slices of meatloaf with gravy, perfectly cooked broccoli and cauliflower, and two nice dinner rolls. (No potatoes. Allergy.)
The restaurant, Taste of Scandinavia with locations in two St. Paul suburbs, was founded in 1990 by Soile Anderson, using recipes from her native Finland. She no longer owns the place, but the current owners maintain her quality. And, they make her frosted kringle, untested during this trip.
While I tucked into the excellent meatloaf (with enough leftover for another meal,)" my lunch partner, Vicky, enjoyed her pot roast quesadilla on a whole-wheat flour tortilla. Both the meatloaf and the pot roast were thoroughly modern takes on classic Midwestern food.
Our talk over lunch was of corporate business, consumer affairs, blogs, and marketing.  That is, it was until our conversation shifted to the classic cafe lunch both she and I remember from our small-town childhoods, hers in Northern Minnesota, mine in South Dakota.
Every cafe and small restaurant across Minnesota, South Dakota, and probably every adjacent state, had a 'dinner' special. Dinner was what we called the noon meal, except for the meal at school which was lunch.  The classic cafe 'dinner' special was either a hot sandwich (beef pot roast, pork, or meatloaf served with mashed potatoes and gravy over a slice of white bread) or a hot dinner, which was the same items sans bread slice, but with a dinner roll on the side. The menu moved out of the cafe for farmer appreciation dinners or any community dinner that wasn't a potluck.
I box up my extra slice of meatloaf.  While I wrapped my roll in a napkin, Vicky, slyly, remembered when at meal's end of many community events, some women would tuck a napkin-wrapped roll in their purses, along with packets of sugar, salt, and pepper.
Busted.  Me.  I trust those purse-packers of yore felt as I did today: the roll was simply too good to not enjoy for another meal.