On Sunday, I enjoyed the pleasures available only on a late May morning in a friend's kitchen, a friend with a huge rhubarb patch and a baker's white (flour) thumb. Christine and her husband, Scott welcomed me overnight at their home on a cattle ranch in northeastern Nebraska. For supper Scott grilled pork chops from animals raised nearby and asparagus Christine had harvested that morning from their garden. (They would have served their own beef, but their guest, sadly, is allergic.) All delicious, served with generous helpings of warm conversation.
In the morning, I said, "Something smells wonderful!"
"Rhubarb muffins," Christine told me. She bakes often and does it without fuss. Another pile of slim stalks lay in the kitchen sink. Later in the day, after I left, she'd make and serve a rhubarb dessert to friends. Her main focus, though, these days is completing her PhD thesis in nursing with an emphasis on qualitative care for elders.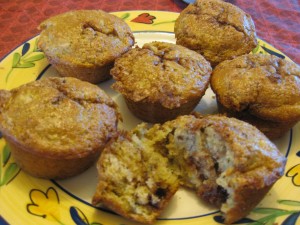 We sat down to  warm muffins, hot tea, and cold orange juice. I ate two muffins.  Well, ok, two-and-a-half. Christine had stirred black walnut extract into the batter, adding another layer of flavor.
Prairie breakfast. Prairie air. Plenty fun!
Christine-style Rhubarb Muffins
Christine: friend, baker, experimental cook, gardener, PhD candidate
1 cup brown sugar
1/2 cup vegetable oil
2 tsp vanilla
1 cup buttermilk, fresh or dried  equivalent
1 1/2 cups diced rhubarb
1/2 cup chopped walnuts
1/4 tsp black walnut flavoring
2 1/2 cups all-purpose flour
1 tsp soda
1 tsp baking powder
1/2 tsp salt
Topping:
2 tsp melted butter
2/3 cup sugar
2 tsp cinnamon
In medium bowl, combine brown sugar, oil, egg, milk and vanilla. Add rhubarb, nuts, and flavoring. Stir in dry ingredients, just until mixed. Spoon into prepared muffin tins, either greased or with paper liners. Combine topping and press gently onto muffin batter. Bake in 350° F for 20 to 25 minutes until wooden pick inserted into center of muffin comes out clean. Makes 18 muffins.