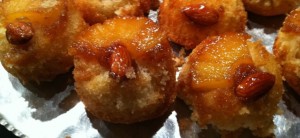 The first Friday of every month, I can always go to a party. It's a pot-luck soiree of people who work in the creative arts in the Twin Cities–writers, designers, editors, talent in all media.  Kit Naylor and Cathy Madison got it started and Kit is the supreme hostess who makes sure it continues, scheduling hosts and welcoming one and all.
Everybody brings something:  wine, beer, sparkling water, and food, good food. The eclectic dining offerings span every menu possibility from honey-crusted peanuts from a bin at the supermarket to a curry recreated by a man just returned from Malaysia. A marketing writer who aspires to turn her baking arts into a cookbook brings her latest concoctions. In the winter, there are crockpots of stews and soups. During summer, plates of fresh tomatoes with basil and bowls of fresh fruit predominate.
I decided to bake for last week's bash. Hungry for pineapple upside-down cake, I down-sized to mini-cakes, each with a bite of pineapple and an almond. They were devoured right down to the crumbs on the tray.
Pineapple Upside-Down Mini Cakes
No need for cupcake papers. You may need to trim the cakes to get them out of the cupcake pans.
Makes 24 mini cakes
1 15-ounce can pineapple slices in juice1/4 cup butter, melted
2/3 cup firmly packed brown sugar
24 whole almonds or pecans
2 2/3 cups all-purpose flour
1 1/3 cup granulated sugar
1 tbsp baking powder
1 1/3 cups reserved pineapple juice plus water or milk
1/2 cup butter, softened
2 eggs
2 tsp vanilla
1.  Drain pineapple, reserving juice. Cut six slices into quarters. Use remaining pineapple as desired.
2.  In small glass bowl, combine melted butter, brown sugar, and water. With non-stick spray, coats sides of each compartment of two 12-serving cupcake pans. Divide butter-sugar mixture among the cups. Arrange 1/4 pineapple slice and one nut in each. Set pans aside.
2.  In medium bowl, combine flour, granulated sugar, and baking powder. Stir in juice mixture, 1/2 cup butter, eggs, and vanilla. Mix at lowest speed of mixer just until ingredients are combined. Increase speed to medium and mix 1 more minute.  Evenly divide batter in pans.
3.  Bake at 350 degrees for about 25 minutes or until wooden pick comes out clean. Cook pans on wire rack for about 5 minutes. With a table knife, loosen sides of each cake, removing excess cake on top edges, if needed. Invert onto baking pan. Spoon out any topping left in pan. Serve warm.