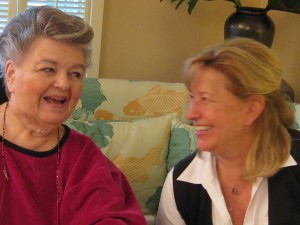 Among the masters in my midst are Martha Nichols and Susan (Sue) Palmquist.  Martha, an interior designer, is a longtime friend who has helped me make my successive homes more lovely than I could have done myself.  Besides her skills in putting together all the design details, I call her the Color Empress.  To see Martha consider colors for a room is akin to watching Dale Chihuly invent his glass creations or Olympic gold medal figure skater Kim Yu Na soar over the ice.
I've recently gotten to know Sue, Martha's collaborator in many projects and friend of many years. Sue, co-owner of Sawhill Kitchens in Minneapolis, designs kitchens as a maestro who first listens to the client's vision and then, makes sure the range plays well with the sink, that the backsplash complements the countertop and cabinets, and there will be room to open the refrigerator door all the way to remove the crisper drawers.
I watched these masters in action last week. Imagine an equally supportive game of tennis between two of the very best. Martha and Sue each have true joy in what they do and the highest standards of excellence.
Not only does Susan make kitchens that work, she's a wonderful cook. She made us a Roasted Vegetables and Orzo Salad and served it with baked chicken breasts.  My contribution to this lunch was bread and chocolate chip cookies. Here's Sue's recipe: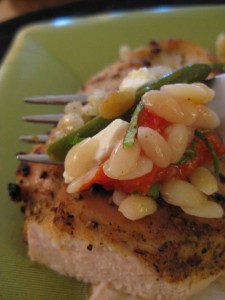 Roasted Vegetables and Orzo Salad
Cut the following vegetables into 1-inch cubes, squares, or pieces:
1 eggplant (medium size)
1 red pepper
1 yellow or orange (or both) pepper
1 red onion
1 cup green beans
3 cloves garlic – minced
1/3 cup good olive oil
1-1/2 tsp. kosher salt
1/2 tsp. freshly ground black pepper
1 pound orzo
Dressing
1/2 c. freshly squeezed lemon juice – approx. 3 lemons
1/3 c. good olive oil
1 tsp. kosher salt
1/2 tsp. freshly ground black pepper
Final additions
6 scallions, minced
1/2 c. toasted pine nuts
3/4 lb. feta cheese (crumbled or diced)
20 – 24 fresh basil leaves, cut into thin strips (chiffonade)
Heat oven to 450 degrees F. Place eggplant, red, yellow, and/or orange peppers, onion, and zucchini in baking pan. Toss in 1/3 cup olive oil, garlic, salt, and pepper. Roast about 30 minutes until browned, turning once.
In medium saucepan, cook orzo according to package directions. Drain, rinse lightly, and place in large bowl. Add the vegetables along with all the scrapings from the pan. Meanwhile, make the dressing and add to the warm orzo & vegetables.
Just before serving, add scallions, pine nuts, feta cheese, and basil chiffonade.
Serve with roasted or grilled chicken breasts.  Makes about 10 servings.