I was a teenager in a prairie town when I first read Willa Cather's My Antonia — accent on the first 'A.' I'd read the Laura Ingalls Wilder "Little House" books and identified mightily with them. But, My Antonia was a revelation. I suppose I was beginning to know there was a big world beyond my little town. This wasn't a kids' book. Here was a story about the immigrant life and the promise of something more. For Antonia, the promise lies in the prairie.  For Jim, the narrator, it's in cities and universities.
Cather wrote My Antonia and her other novels about prairie life long after she moved east from the Nebraska prairie. This and others of her novels mined her memories of the prairie, its harsh beauty, and, most importantly, the people.
Last week, I experienced a world premier stage production of My Antonia at the Illusion Theatre in downtown Minneapolis, showing through March 20, 2010. If you're in or near Minneapolis, I highly recommend the show.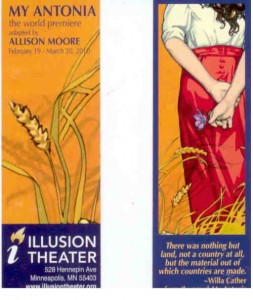 The stage was simple and the adaptation faithful to Cather's book. Allison Moore captures the essence of the characters and the actors are just right in each part.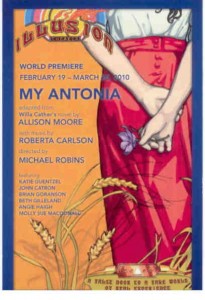 I left the theater refreshed, again connected to my own span of prairie memories and reminded of what we make from our memories. More about Cather and the food in My Antonia, soon.