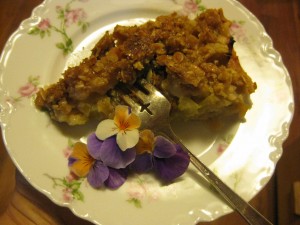 Rhubarb tastes best to me when I pull it myself and cook it right away. Always pull from the root plant to get the 'good end.' I'll be replacing my small, unproductive rhubarb patch this year. In the meantime, I watch for stands of rhubarb that look as though the owners have more than enough of the stuff or simply don't pick it. I look for the pale green bulb, meaning the plant has "bolted" or gone to seed. The stalks taste best if it has only just gone to seed.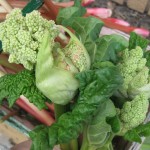 I'm not shy to inquire about the rhubarb. If the answer is "no," no problem. But, it never is.  Yesterday, I was granted permission to pick what I wanted and got enough rhubarb for two pies and some sauce.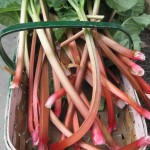 Adding eggs to rhubarb pie makes a creamy filling that balances rhubarb's tart, sour flavor. Sugar is essential, of course. My mom's recipe came from the Better Homes and Gardens "Red Plaid" and the Betty Crocker "Big Red" cookbooks she received as a bride in the early 1950s. Alas! Neither the latest BHG book nor the latest BC book still has the recipe. My copy of the Pillsbury Kitchens Family Cookbook, 1979, has it.
A side note: in my first job, I helped test the recipes for the dessert section of the Pillsbury book, working with experienced home economists who contributed to my development as a cook and food writer. Later I wrote as a staff food editor for Better Homes and Gardens magazine and worked often as a freelance food writer for the Betty Crocker kitchens.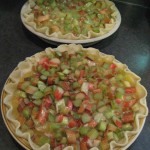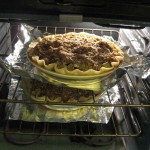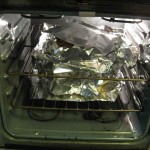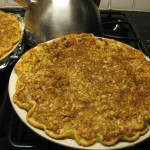 Rhubarb Crumble Custard Pie
Adapted from the Pillsbury Family Cookbook, 1979.

9-inch single crust pastry
4 eggs
1½ to 1¾ cups sugar
¼ cup all-purpose flour
½ teaspoon nutmeg
5 cups sliced rhubarb, ½-inch pieces
Oatmeal Crumble:
½ cup firmly packed brown sugar
½ cup oatmeal     TIP: I use a mix of  steel-cut and rolled oats.
¼ cup all-purpose flour
¼ to ½ tsp. nutmeg
3 tbsp. butter
1/2 cup chopped nuts of your choice:  pecans, walnuts, almonds
Heat oven to 400 degrees F.  Place pastry crust in 9-inch pie plate.
TIP:  Pastry cooks most evenly in pottery or ceramic pie plate than in glass or metal.
In large bowl, beat eggs. Stir in sugar, flour, and nutmeg; mix well.  Stir in rhubarb.
In separate bowl, prepare Oatmeal Crumble: Stir together brown sugar, oatmeal, and flour.  Cut in butter with pastry blender or two knives. Stir in chopped nuts.
Spoon rhubarb mixture into pastry. Flute pastry edge. Sprinkle filling evenly with Oatmeal Crumble. Bake in 400 degree oven about 70 minutes. Place aluminum foil collars around pastry edge to avoid over-browning. If it browns too fast on top, place a sheet of aluminum foil loosely over top. Bake until golden brown, filling is set, and mixture bubbles. Makes 8 servings.