Greg Mortenson seems more like an avatar, the embodiment of a principle, than a real live, flesh-and-blood human. He is a hero to me and I got to see and hear him in person December 18, 2009 in Bloomington, Minnesota, where I was one of a thousand people who came to be inspired and left energized.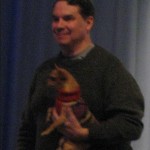 For anyone who dreams of world peace and has a secret desire to save the world from poverty, violence, and ignorance, Greg seems too good to be true. He lacks sarcasm and breathless self-promotion.

Greg Mortenson greets students in Korphe, Pakistan, the village where the Central Asia Institute built its first school with the support of Haji Ali, at left, Mortenson's mentor and inspiration.
How ya gonna get your brand out there without those?
He does it and has been for 17 years. Humble, earnest, tenacious, and possessing a gentle sense of humor, Greg builds relationships and schools and more in isolated tribal areas of Pakistan and Afghanistan. Since 1993, he has spent 75 months, more than six years, in the two countries. His first book, Three Cups of Tea, is required reading for top military advisors, including Secretary of Defense Gates, and all US Special Forces troops serving in Afghanistan. Greg's work to promote peace through education, especially for girls, has brought him to the short list of people who deserve the Nobel Peace Prize.
Under the flag of the Central Asia Institute, based in Bozeman, Montana, he raises money to build schools in the same areas where the Taliban, Afghanis, and troops from the US, Britain, and many other countries vie for hearts and minds. The thing is, Greg credits his success to tribal elders. It's left to the rest of us to credit this remarkable man for showing how one person can and is making a difference in the face of what seems impossible.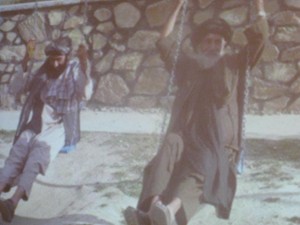 A recent example:  His organization set a goal to build the first high school for girls for five provinces in Afghanistan, the same area that's home to Taliban leader Mullah Omar. The CAI gave themselves 20 years to make it happen.  It took just one year and includes a playground. Elders from another area expressed an interest in building their own girls' high school and were invited to meet at the new school. Before the meeting began, the men insisted on seeing the playground and in minutes, they were swinging. Old men who have lived through 30 years of war and strife were playing, joyfully. They quickly approved a school in their area; the playground to be built first.
Follow Greg Mortenson on Twitter.