I grew up in a small community, Irene, South Dakota, with many people of Danish and Norwegian descent. Most of the year this fact was most evident by the number of last names that ended in 'son' and 'sen.' At Christmas, this was most obvious in the plates of krumkake, rosettes, fattigman, and spritz at holiday tables. (A krumkake (CROOM-kah-kah) is a sweet crisp wafer rolled to a crescent as soon as it comes off the griddle. It's first cousin to the Italian Pizzelle, the delicious flat wafer cookie that uses the same kind of griddle.)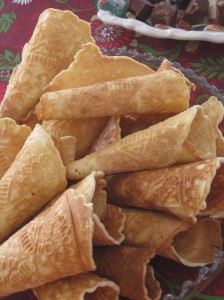 Minneapolis, where I make my home, has more than a nod to the Scandinavian tradition, but it's more likely that I'll see krumkake and rosettes in boxes at the grocery stores than on the plates at friends' homes.
Thus, I've become a krumkake maker, purchasing an electric one just before Christmas from Bethany Housewares in Cresco, Iowa, via Minneapolis-St. Paul's premier kitchen store, Cooks of Crocus Hill. There's a traditional version that fits over an electric or gas burner. I chose the electric appliance that makes krumkake making almost fool proof.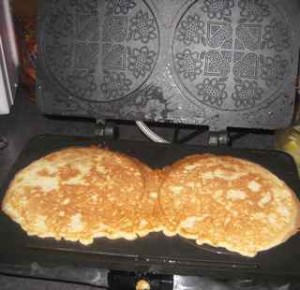 The recipe adapted from Bethany Housewares:
Krumkake
½ cup butter (1 stick)
4 eggs
1 cup sugar
½ tsp. vanilla extract
1½ cups all-purpose flour
2 tbsp. cornstarch
½ tsp. crushed cardamom seed
Melt butter and set aside to cool slightly.  With mixer or whisk, beat eggs and sugar until thick, 2 to 3 minutes.  Stir in melted butter and vanilla. Beat until well blended.
Spoon flour into measuring cup and level—this prevents adding too much flour making the krumkake tough. Sift in cornstarch and stir in crushed cardamom. Stir into egg mixture. Batter has a dough-like consistency.  Spoon 1-inch mounds of batter onto hot griddle. Close lid. Cook according to manufacturer's directions or until krumkake is light golden brown.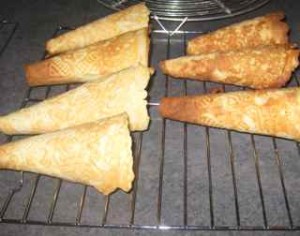 My next-door neighbors enjoyed krumkake for the first time this year and loved them. Friend Karen, steeped in things Norwegian and Danish, took her gift of krumkake and filled them with lemon curd and whipped cream to share with friends.  Friend Kris, of Danish descent, remarked, upon receiving the expected bag of my biscotti along with krumkake: "All this and krumkake, too!"