For a long time, I've been in the habit of imagining what some people I meet may have looked like in their younger days. It started, I think, with a work colleague who was about 15 years older than I. She was elegant and lovely, a very kind and fun person. Her face had aged early and she occasionally commented that she missed being beautiful. In my mind's eye, I could 'see' her as an incomparable beauty in years past. For all she had become and accomplished, she was no longer beautiful in that dewy 20-year old way.
While I had liked the way I looked, I'd reserved the word beautiful for other people and in turn, I'd rarely been called beautiful in features. I found it fascinating that my friend believed she had lost status as a beauty as she aged. At that time, she was under 40, far from old in any way.
Last week I joined a group of eight women. Each of us knew at least two of the guests. One knew every one of us. We'd all gone to Iowa State University in the 70's. Each has weathered storms in her life. All were smart, lively, interesting women.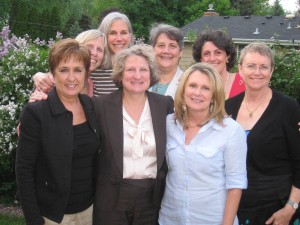 I looked around that table, imagining how each of us had looked as a college freshman or junior and how we'd each embraced our lives. The guest of honor commented to one woman: "You get the award for having changed the least," while said woman laughed and said, "Really?"
For my part, based on the three women I've known since journalism school at ISU, each of us grew into the essence that was wholly apparent then: Raeanne's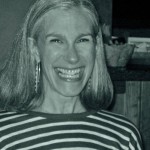 exuberant creativity; Sue's practical competence and centered joy; Heather's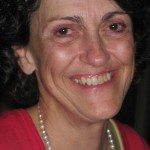 creative pragmatism and peerless organizational skills.
I sat there marveling at what each of us had become as fully formed women. Those I knew and those I'd just met, beautiful, every one.
And of course, there was food. Heather, planner extraordinaire, hosted us, made assignments, and offered the appetizers and wine. Liz,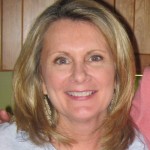 who I'd just met, brought the main dish salad, Liz's Dijon Chicken Salad. The distinctive Dijon-mayonnaise dressing had layers of flavor. It's one of the best I've tasted. Raeanne and Sue 'art directed' the photo. In the next few days, I'll post two more recipes from a memorable evening
Liz credits the recipe to her friend Doris Fortino, who lives in Lucca, Italy and owns an inn.
Liz's Dijon-Mayonnaise Chicken Salad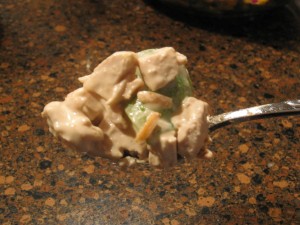 2 to 3 lbs. of boneless chicken breasts
Fresh thyme or other fresh herbs
Lemon pepper
1/2 cup slivered almonds
1/2 cup blanched pea pods, sliced as desired. Or use sugar snap peas, blanched
In medium saucepan, place chicken, herbs, lemon pepper and water to cover. Cut a sheet of cooking parchment to exact size of pan, using the lid as a template. Cut an X in the middle with scissors to allow steam to escape. Bring chicken and herbs to a simmer. Cover with parchment and simmer for 20 minutes. Cool and slice into 3/4-inch cubes.
Drop pea pods into boiling water for about 1 minute. Remove and plunge into ice water to cool. Drain, dry and slice, as desired.
Meanwhile, toast almonds on baking sheet in 300° oven, about 5 minutes. Set aside to cool.
In medium bowl, combine cooled chicken and peas. Stir in Dijon-Mayonnaise Dressing (see below). Sprinkle with toasted almonds. Serve on lettuce leaves, croissants, or bread of your choice. Makes 8 to 10 servings.
Dijon-Mayonnaise Dressing
Try this dressing as a dipping sauce for crab or salmon cakes. Change it up by stirring in chopped green onions, chopped red bell peppers, and/or fresh herbs.
1 cup mayonnaise
1/2 cup Dijon mustard
1/4 cup red wine vinegar
1/4 cup oil
Soy sauce to taste
In small bowl, combine all ingredients. mix well. Makes 1 3/4 cups dressing.