One day it dawned upon me that I have the same intention when making salsa or making the chunky summer soup, gazpacho. Either way, I'm going for a tomato base with veggies and a complex mix of sweet, salty and sour flavors, plus heat from chiles. That same day, I realized that most of the ingredients are identical, save a little more cilantro in the salsa and chopped cucumber added to the gazpacho. But, really, the combinations change every time. Jalapeno or habanero? Lemon or lime juice? Red or yellow or white or green onions or all four? Garlic cloves, garlic chives, or shallots? Red, green, yellow or orange sweet peppers? Salt or Vulcan Salt? Ground Black Pepper–always a resounding "Yes!" to that.
Today's version started with the beautiful, meaty tomatoes from the Nicollet Mall Farmer's Market, Thursdays, in Downtown Minneapolis. My own garden finally offered the first and then a second ripened San Marzano tomato to add to the mix. Lemon-colored peppers, green onions, chopped garlic cloves. I can't help but stop and admire the burst of colors at this point.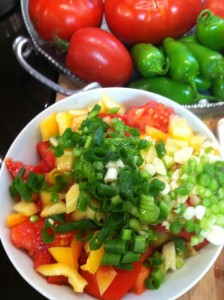 The vegetables always outdo themselves. The seasonings take a bit more thought. I use fresh lemon or lime juice and a splash of olive oil. Vinaigrette calls for about 1/3 lemon juice to 2/3 oil. I flip those proportions and lean into the lemon or lime juice for an assertive, bracing quality to the dish. Sometimes, I augment the chiles' heat with Crystal Hot Pepper Sauce. Salt and pepper to taste. If gazpacho has the upper hand, I splash in some Worcestershire sauce. Instead of giving you exact amount, I advise calibrating these ingredients by your taste preferences as I do for mine.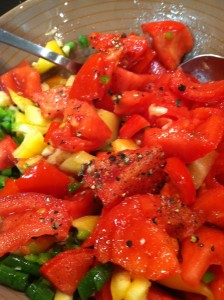 Before the mix
The chunkier the tomato, the more the dish tends toward gazpacho. Yet, it's easier to scoop a salsa's single, large tomato chunk onto a tortilla chip (in Minneapolis/St. Paul, I recommend those from El Burrito Mercado, sold across the metro area and in their St. Paul HQ). OK, it may be even easier to scoop the more uniformly, chopped vegetables. It just depends.
For certain, I know that from now until frost, salsa/gazpacho will be on the menu almost daily.