I cooked for a vegetarian friend today. As I thought through my favorite recipes, I kept having to remember: no chicken broth, no sausage, no ham. I eat and enjoy meat, but even more, I rely on those ingredients to add the extra dimension of flavor that vegetarian food may lack. It's unami, the fifth flavor, the flavor of broth, meat, and salts. Think grilled and sauteed meats, olives, Worcestershire sauce, miso, tamari, mushrooms.
White Bean and Vegetable Stew in Red Wine Sauce, adapted from wonderful vegetarian cookbook author Deborah Madison, solves the challenge with a red wine sauce that I can't wait to make again with a meat dish.  My concern was unfounded that a red wine sauce would discolor the white beans. The sauce enhances both the flavor and appearance of the beans and veggies.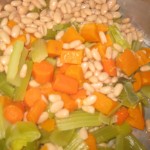 After the beans and veggies are cooked, brown a couple tablespoons butter and add chopped shallots or green onions. Stir in red wine and reduce the mixture by about 2/3's.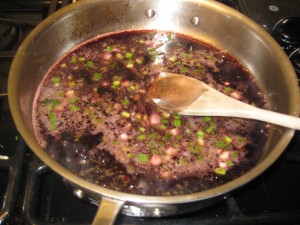 Let it simmer 10 or more minutes until the mixture reduces to  about 1/4 cup total.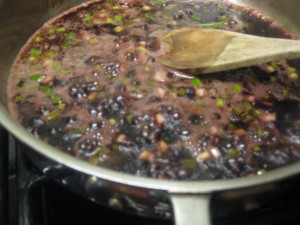 When the sauce has reduced, fold it into the beans and veggies.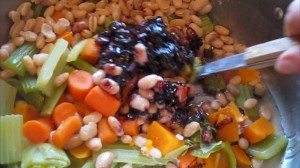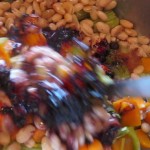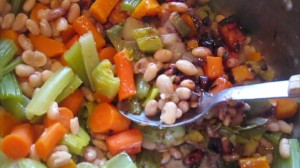 Sprinkle with chopped parsley and serve with hot, cooked rice alongside a green salad.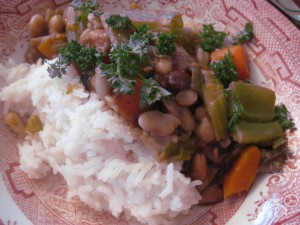 Adapted from Vegetarian Cooking for Everyone
by Deborah Madison, Broadway Books, 1997
4 cups cooked cannellini, Great Northern, or white Aztec beans
1 medium sweet potato, pared and cut in 1½-inch cubes
5 carrots, cut in 2-inch lengths
2 large or 3 medium leeks, cut in ½-inch rounds
2 to 3 stalks celery, cut in 2-inch lengths
6 tablespoons butter
3 shallots or 6 green onions, chopped
1 cup dry red wine
1 garlic clove, minced
Salt and pepper to taste
Hot cooked rice
Chopped parsley
In 3-quart saucepan, place sweet potato, carrots, leeks, and celery. Place beans on top. Add water to cover about ¾'s vegetables and beans. Cook until vegetables and beans are tender, about 25 minutes. Drain excess liquid and reserve. Set aside.
In a medium skillet, melt half the butter with shallots or green onions. Cook over medium heat about 3 minutes. Watch carefully and let butter brown. Stir in wine and simmer until only ¼-cup remains and the pan is nearly dry.
Stir into beans and vegetables.  Stir in garlic. Season with salt and pepper.  Simmer about 5 minutes. Cut remaining butter into small pieces and gently stir into beans. Let cook a few minutes. Stir in a few more tablespoons of reserved cooking liquid.
Serve stew with cooked rice and chopped parsley.  Makes 6 dinner-sized servings.